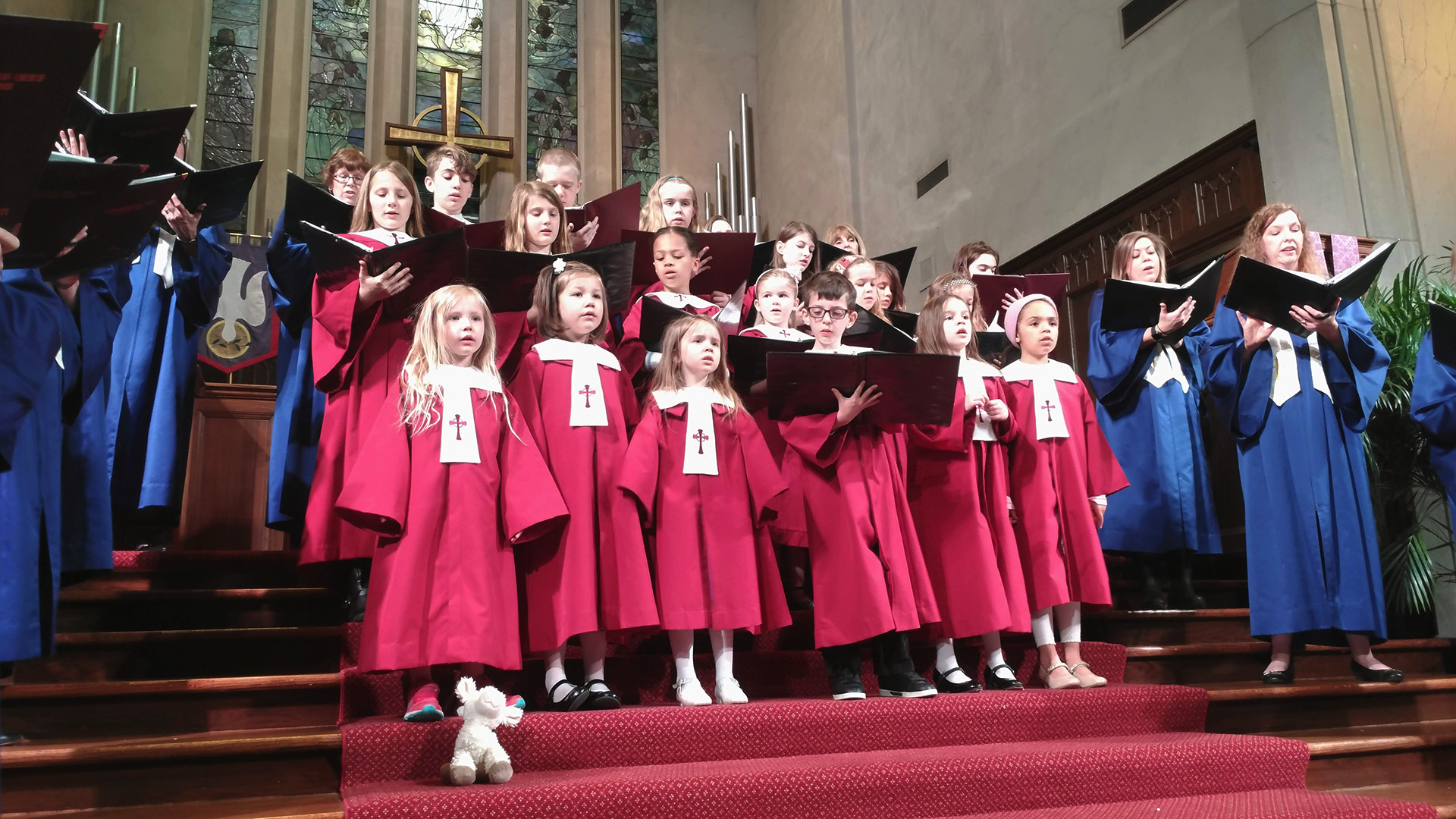 Music & Fine Arts Welcome
In its belief that music and art are integral parts of worship, Second Presbyterian maintains a long-standing tradition of artistic excellence. Under the leadership of Dr. Michelle L. Louer, the music and fine arts programs of Second Church are vibrant and active, with ministries for all ages, from four-year-olds through adults.
While upholding the tradition of our Reformed worship, Second's vibrant music and fine arts ministry provides opportunities to learn, grow, and serve in worship, mission and outreach through multiple art forms as we profess the transformational life and message of Jesus Christ.
During the past year, we have engaged the talents of many local musicians to provide pre-service music before worship each Sunday. We invite you to enjoy this beautiful music!
| | | |
| --- | --- | --- |
| + | | |

Director of Music and Fine Arts

(317) 253-6461 | MFA@SecondChurch.org

Michelle L. Louer received the doctoral degree in choral conducting from Indiana University Jacobs School of Music, studying under Jan Harrington, Carmen Helena-Téllez and Thomas Dunn. She holds both Master of Music and Master of Divinity degrees from Yale University where she graduated summa cum laude, and a Bachelor of Music in piano and church music, magna cum laude, from Stetson University. In addition, she studied with noted conductors Fiora Contino and Joseph Flummerfelt.

Dr. Louer is in her twelfth year as the Director of Music and Fine Arts at Second Presbyterian Church where she leads a comprehensive program for children and adults, providing vocal and instrumental opportunities for education, ministry, and performance. Dr. Louer conducts the 70-voice Sanctuary Choir and the Beecher Singers (a professional chamber choir) and oversees a talented music staff that directs children and youth music, handbell ensemble, wind ensemble, and a vibrant fine arts area.

She is a former Adjunct Professor of Choral Music at Butler University, and prior to her appointment at Second, served on the faculties of University of Evansville and Oklahoma City University, and as Artistic Director and Conductor of the Kokomo (Indiana) Symphony Orchestra and Chorus for 3 years.

Dr. Louer has led the Sanctuary Choir in annual performances of choral/orchestral masterworks, including Beethoven's Choral Fantasie with André Watts, J.S. Bach's Johannes Passion with Alan Bennett (Evangelist), Verdi's Requiem, Vaughan Williams' Dona Nobis Pacem, Poulenc's Gloria, and Mendelssohn's Elijah.

For six seasons, she served as Artistic Director and Conductor of the Bach Chorale Singers of Lafayette, Indiana where she was known for innovative programming of works such as James Whitbourn's Annelies and a retrospective of the choral music of Leonard Bernstein. In the summer of 2016, Dr. Louer led choral groups on a performance tour through Germany and parts of the Czech Republic. Equally comfortable leading orchestras, she has conducted Dvořák's Symphony No. 9 ("New World"), Elgar's Cello Concerto in E minor, Prokofiev's Symphony No. 1, and Stravinsky's Firebird Suite (1919), and in 2018 served as Guest Conductor of the 14th Annual International Festival of the Aegean in Syros, Greece. Dr. Louer also serves on the Sacred in Opera Committee of National Opera Association.

Organist and Assistant Director, Music and Fine Arts

(317) 253-6461 x 309 | JAllegar@SecondChurch.org

Dr. John Allegar is the Organist and Assistant Director of Music & Fine Arts at Second Presbyterian Church. He coordinates and schedules soloists and instrumentalists, maintains the church's keyboard instruments, accompanies the Beecher Singers and Sanctuary Choir, and provides musical leadership for worship services. John also assists Michelle Louer, Director of Music and Fine Arts, with the implementation of the Music and Fine Arts Series and the general supervision of Second's music program. John received the Doctor of Musical Arts degree in Performance and Literature (Organ) from the Eastman School of Music, and is past dean of the Indianapolis Chapter of the American Guild of Organists (AGO)

Director of Youth and Children's Music

(317) 253-6461 | PPauloski@SecondChurch.org

Patrick Lewis Pauloski received the master degree in choral conducting from Butler University, studying with Eric Stark, John Perkins, and Michelle L. Louer. He also holds a Bachelor of Music in voice, magna cum laude, from Luther College, Decorah, IA. Pauloski, an Indianapolis native, was previously the Conducting Fellow of the Indianapolis Symphonic Choir, a unique fellowship that exists between the chorus and master of choral conducting program at Butler University.

Pauloski's choral experience began when he joined the Indianapolis Children's Choir and sang under the direction of Henry Leck and Joshua Pedde. While a student at Luther College, he sang in the Nordic Choir under the direction of Allen Hightower III. Until Fall of 2020, he served as staff bass at St. Paul's Episcopal Church, Indianapolis, Indiana. He is an active member of the Indianapolis Symphonic Choir, as well as Circle City Chamber Choir–C4, which produces an annual summer choral concert as well as making other appearances throughout the Indianapolis area year-round.

Pauloski has taught pre-K through eighth grade general music in the Catholic Archdiocese of Indianapolis and was on the teaching faculty of the Indianapolis Children's Choir from 2017-2018. He is excited to join the Music and Fine Arts staff in creating worship and performance opportunities for youth musicians.

Cherub Choir Director and Fine Arts Coordinator

(317) 253-6461 | CBaker@SecondChurch.org

From cultivating community partnerships to writing innovative cross-disciplinary curriculum, Carol Baker enjoys serving the Central Indiana community as a leader, follower and cheerleader. As an arts education and non-profit management specialist, Ms. Baker has served in leadership and program management roles for Indianapolis Symphony, The Center for the Performing Arts, Indianapolis Opera and Indianapolis Chamber Orchestra, and as a consultant for organizations like Hamilton County Convention and Visitors Bureau, Indianapolis Symphony, Actors Theatre of Indiana, and Carmel Education Foundation.

A Creative Renewal Fellow of the Arts Council of Indianapolis (2006) and graduate of Stanley K. Lacy Executive Leadership Class of XXX (2005), Ms. Baker holds a Master of Public Affairs from IUPUI's School of Public and Environmental Affairs with a certificate in negotiation and mediation and a Bachelor of Music Education and French minor from University of Louisville. She has served on the boards of Motus Dance Theatre, American Red Cross of Greater Indianapolis, Indiana Coalition for the Arts and as co-chair of the American Symphony Orchestra League's National Education and Community Directors Leadership Team.

An advocate for arts learning and early childhood development, Ms. Baker trained with teaching artists through Lincoln Center Institute in New York and studied with Dr. John Feierabend to earn a "First Steps in Music" certification. Before moving to Indianapolis in 2000, she worked for Actors Theatre of Louisville, taught elementary music for the Archdiocese of Louisville and performed with Kentucky Opera.