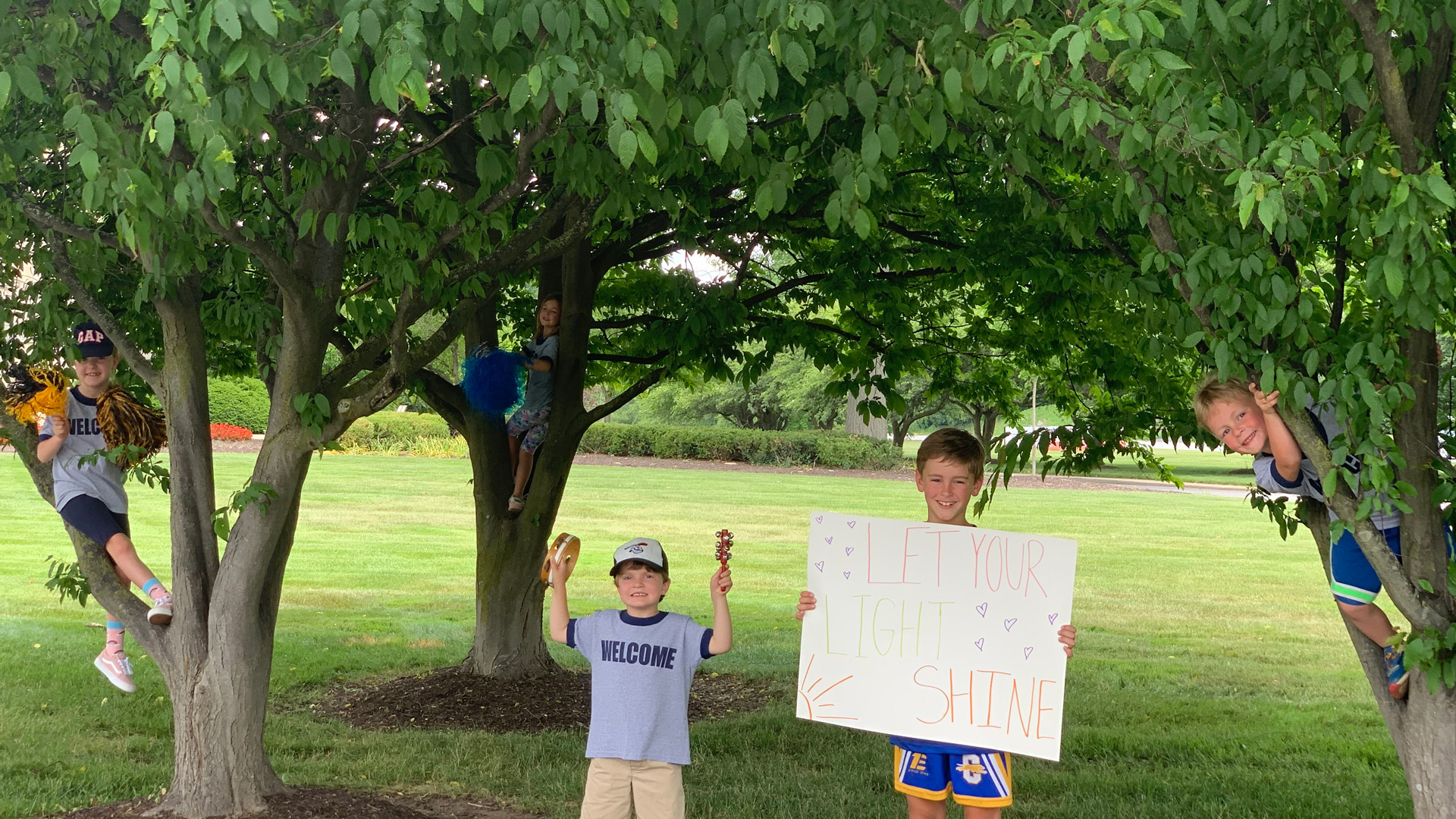 God's family is always connected! God's love reaches us no matter where we may be, and God gives us the spirit to share love, kindness, and joy throughout our day. So, we meet you with God's warmth and invite you into this very special community of friends.
Watch the Time with Children from Sunday's worship service.
The Children and Family Ministry of Second Presbyterian Church seeks through worship, study, fellowship and service to support families as they grow in faith. Here our children are claimed in baptism, wrapped in love, grounded in the stories of our faith, and called by Jesus to lives of faithful discipleship.
---
Vacation Bible School
Each summer we gather for a week of learning and fun. Join us for Vacation Bible School this summer, June 21-25! Registration closes June 1st.
---
Weekly Family Devotions
Meet us on Wednesday evening at 6:30 p.m. on Facebook for Family Devotion Time. Join us for a mid-week pause with this ten-minute conversation. Did you miss a week? You can catch up with this video playlist.
Questions? Email CFM@SecondChurch.org for Zoom info.
---
Online Sunday School Resources
With online Sunday School, we continue to grow together and learn about God. Email CFM@SecondChurch.org for Zoom info.
Questions? Email CFM@SecondChurch.org for Zoom info.
*Curriculum used with permission from Presbyterian Publishing.
---
Story & Stretch
A fun and active way to explore your faith!
Click here to see the all the videos. Thank you, Odle Family!
(And special thanks to Michel Gribble who wrote this creative "Story & Stretch" interpretation!)
---
Music Video
"Spirit of the Living God" Music Video
---
And check out these other online resources:
*Curriculum used with permission from Presbyterian Publishing.
| | | |
| --- | --- | --- |
| + | | |

Coordinator of Children's Ministries

(317) 253-6461 | KGreen@SecondChurch.org

Kathryn "Kat" Green-Ross, a certified Christian educator, is the coordinator of Children's Ministries for the church. Her call is to make space for all of the voices of God's people…especially the children. Kat's understanding of "church" is a holy collaboration for Christ that is playful, prayerful, and programmatically well integrated into the life of the church. Through Kat's leadership, "Child Forward" programs remember that a little child will lead them. The children find a "child-sized bite" of mission, discipleship, fellowship, and study waiting for them. Whether it is a putt-putt Bible Study, or an Escape Room study of Paul's travels, Kat will find a way to engage children in the tangible good news of a life in Christ.

Kat is a graduate of the University of the South, Sewanee (B.A. in French), Eden Theological Seminary (M.A.P.S), and the University of Missouri (M.L.I.S). Prior to her return to Indiana, Kat was the Assistant Director and Head of Public Services for Westminster College's Reeves Library. She previously served churches in Texas, Kentucky, and Missouri. She began ministry at Second Presbyterian Church in June of 2016. Kat is an ordained ruling elder in the PC(USA) and a Certified Christian Educator since 2003.

She and her husband, Ken, live with their son Jack and Kat's mother, Alice. They each have a grown son and daughter. Kat loves gardening, baking, painting, kayaking, soccer, hockey, and the beach! She has a passion for social justice and the radical transformative love of Christ.

Book recommendations: The Selfish Giant (Oscar Wilde), The Hiding Place (Corrie Ten Boom), The Witness of Religion in the Face of Fear (Michael Kinnamon), Searching for Shalom (Ann Weems)

Interim Facilitator of Children and Family Ministries

(317) 253-6461 | AVanMeter@SecondChurch.org

As Interim Facilitator for Children and Family Ministry, Ann brings together a love for children and a love for Second Church. She began serving in this position in July 2019 after 25 years of volunteering throughout the ministry. She has served multiple terms as Chairperson of Vacation Bible School and the Children and Family Ministry Team as well as an Elder and a Deacon. She is the proud recipient of a Presbyterian Women Life Membership Award in 2008.

Ann is a graduate of Georgia Institute of Technology in Atlanta, GA. She is always quick to point out that there really are other majors at Georgia Tech besides engineering, as she earned her degree in management. She and her husband Scott were married in the sanctuary in 1997. They are the proud parents of Abbie and Sam. They have lived in Noblesville for 21 years and agree it is a long drive to Second! They once considered finding a church closer to home but realized that Second was their family.

All those miles later, Scott and Ann have deep appreciation that Second has helped to raise their children. Ann is passionate about Bible Study and has lead them for Presbyterian Women for 15 years. She loves family vacations, especially if there is a beach involved. You can often find her cheering on Sam's soccer games and Abbie's speech tournaments. She loves yoga and a good walk.

Books recommendations: Sensible Shoes (Sharon Garlough Brown), Anxious for Nothing (Max Lucado), The Gift of Imperfection (Brene Brown) and Jesus Calling (Sarah Young)

Senior Associate Pastor for Formation

(317) 253-6461 | bshivers@secondchurch.org

As Senior Associate Pastor for Formation, Brian is the senior staff liaison for all of the formation programs of the church and the Formation Committee of the Session. He spends most of his time programmatically with the youth and college students of the church. Brian enjoys teaching, facilitating group discussions, and working with an incredibly talented group of colleagues. At Second, Brian lives out his call to congregational ministry and leads out of his desire for the church to be a place where all are welcomed and know they are loved – no matter what.

Brian is a graduate of Taylor University (B.A. in Christian Education) and Christian Theological Seminary. He began ministry at Second Presbyterian Church in July of 1990 and was ordained and installed as Minister of Word and Sacrament at Second in 2011. Brian is married to Jennifer Shivers, who is a Senior Integration Architect at Regenstrief Institute on the Global Health Informatics team. Brian and Jennifer met at church when they were in middle school and were married in 1987. They are the parents of one adult daughter, Allison.

Brian loves to travel, read, and write poetry. He gets the most joy through spending time with Jennifer and Allison.