Commitment Sunday
Sunday, October 22
SUNDAY, OCTOBER 22
How do we respond to God's grace through Christ? We put God first in our lives. Everything else is second.
In a recent survey of members, 95% agreed, "Second has made a difference in my spiritual life." Our $4.5 million budget requires everyone's support. We need you to Be Second, no matter the size of your contribution. 2018 Pledge cards will be dedicated on Sunday, October 22, but may be returned anytime. You can also pledge online SecondChurch.org/Give.
---
Packing the Trailer for Hurricane Recovery
Sign Up to Volunteer
Packing the Trailer for Recovery
Hurricane Disaster Relief
​Hurricane Bucket Drop Off: October 22-28

Second has been designated a Hurricane Bucket Drop Off Site for Presbyterian Disaster Assistance/Church World Service. Churches and individuals will be dropping off buckets that will be packed in a semi-trailer and transported to the CWS warehouse in Elkhart, IN.
Volunteers are needed to help pack the trailer:
Sunday, October 22, 1-4pm
Tuesday, October 24, 4-7pm
Wednesday, October 25, 2-5pm
Friday, October 27, 4-7pm
Saturday, October 28, 9am-12pm (Clean-Up 1pm-3pm)
Bucket assembly instructions can be found below or in information racks.
Also, Second is continuing its strong partnership with Presbyterian Disaster Assistance. Recovery teams are on the ground. Second has sent $5,000 to PDA and is asking the congregation to prayerfully consider making a donation to match this donation. Make checks payable to Second Presbyterian and indicate on the memo line "Hurricane Relief" or donate online.
---
Cleanup Buckets
Watch this video to see how to assemble a cleanup bucket:
Please purchase all liquids in plastic bottles. Send only new, unopened materials. Put all items in the plastic bucket, packed securely to avoid damage during shipment, and seal lid with packing tape.
1 — 5-gallon bucket with resealable lid*
5 — scouring pads
7 — sponges, assorted sizes
1 — scrub brush
1 — pkg. cleaning towels (18 reusable, like Easy Wipes®)
1 — box dry laundry detergent, 50-78 oz.
1 — liquid concentrated household cleaner (like Lysol®), 12 oz.
1 — bottle liquid disinfectant dish soap (like Dawn®), 24-28 oz.
1 — 1 pkg. clothespins, 48-50 Clothesline, two 50 ft. or one 100 ft.
5 — dust masks
2 pair — latex gloves (like Playtex®)
1 pair — work gloves
1 — 24 to 28 count roll heavy-duty trash bags (30-45 gallon, remove from carton)
1 — bottle insect repellant (pump, drops or lotion; not aerosol), 6-9 oz.
*Some local fast-food restaurants are willing to give pickle buckets (or other 5-gallon buckets with re-sealable lids) or offer them for a small fee. These can be washed out and used for the cleanup buckets.
---
Festival Sunday: Reformation Celebration
Sunday, October 29
Festival Sunday
Reformation Celebration
SUNDAY, OCTOBER 29, 9:30 & 11 AM AND 6 PM, SANCTUARY
9:30 & 11 a.m. Worship
Join with choir, bagpipes, drums, and organ in a celebration of our Scottish heritage and our continual reformation as a community of faith. You are encouraged to wear Scottish tartans and plaids this Sunday!
Second@Six, 6 p.m. Worship
The Sanctuary Choir leads in an informative and interactive concert of music from the Highlands, Hebrides, and the Iona Community. Together, we will lift our voices in praise, through psalms, hymns, and anthems.
---
Progressive Dinner
Friday, November 3, 5-8 p.m.

Church Community Night
PW Fall Sale and Progressive Dinner
FRIDAY, NOVEMBER 3, 5-8 PM
(PUBLIC SALE, SATURDAY 8 AM-2 PM)
Register for Progressive Dinner
Come shop and eat at Church Community Night of the PW Fall Sale. Gently-used treasures fill the church, including McFarland Hall, Multi-Purpose Room, Youth Suite and many other rooms. All sales go to support local, national and international outreach and mission programs.

New this year: Progressive Dinner!
While you are checking out the dozens of booths, stop by food stations for salad, potato bar and dessert. Please purchase dinner wristbands by Sunday, October 29 ($15 per person or $45 per family).
Childcare reservations can be made at SecondChurch.org/childcare at least one week prior to the event.
---
To volunteer for the sale, use the SignUpGenius link below: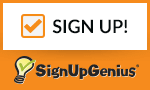 ---
Theology on Tap
Tuesday, October 24, 7-9 p.m.
Theology on Tap
A Deeper Conversation About Faith, hosted by Young Adults
TUESDAY, OCTOBER 24, 7-9 PM, BIER BREWERY (5133 E 65TH STREET)

Want to talk a little more about your faith, God, the Bible? Have questions you've always wanted to ask a pastor but have never had the opportunity? Join us this month as Dr. Lewis Galloway leads us in our discussion. First pint is on us!
---
Boy Scout Holiday Greenery
through November 5
Order Your Christmas Greenery
NOW THROUGH SUNDAY NOVEMBER 5
Boy Scout Troop 18 is taking orders for wreaths, swags, garlands and more during coffee hour. Decorate your home for the holidays with these GREEN items! Stop in McFarland Hall to place your order; then pick up your items in early December.
---
Rehm Guild Luncheon
Tuesday, October 24
Random Acts of Flowers
Random Acts of Flowers
Rehm Guild Luncheon with Lindsay Potter
TUESDAY, OCTOBER 24, 11:45 am
Lindsay Potter is the Program Director at Random Acts of Flowers Indianapolis, whose mission is to improve the emotional health and wellbeing of individuals in healthcare facilities by delivering recycled flowers, encouragement and personal moments of kindness. Since its launch, their team of over 400 has delivered more than 14,000 arrangements to patients in hospitals, nursing homes and hospice facilities. Lindsay holds her master's degree in non-profit management with a concentration in Youth and Community Development.
The cost is $5 per meeting. Salad, desserts and beverages are provided (bring a sandwich if you like.)
For reservations, please contact Shirley Calhoun at (317) 258-3316 by Thursday, October 19.
---
Sages Luncheon
Tuesday, October 31
Sages Luncheon
The Egg & I
TUESDAY, OCTOBER 31, 1 PM, EGG & I (116TH & AAA WAY, CARMEL)

Please join the Sages on for a fun-filled Halloween Luncheon at the Egg & I. There will be a 'Ghostly' quiz with 'Ghastly' prizes! Come if you dare! Each person will order from the menu and pay separately- limited seating so reservations are required.

To get there: Take 116th Street to Pointe Parkway, and turn South at the stoplight. It is between Keystone & Rangeline Road. Watch for the sign which says "Merchants Point".
Deadline for reservations: Monday, October 29 at noon (unless the spots are filled sooner!)
---
Brunch at Woodstock
Sunday, October 22
Sunday Brunch
Woodstock Club
SUNDAY, OCTOBER 22, 12:30 PM, WOODSTOCK CLUB
All are welcome to join the Sages for a delicious brunch at Woodstock Club, 1301 W. 38th Street. The buffet includes both breakfast and lunch items. Come and enjoy the wonderful and relaxing fellowship and good conversation.

Make reservations online, on Sundays during coffee hour, or at the front desk during regular church office hours. Cost is $20. Registration deadline: October 17.
---
Future is Now Luncheon
Wednesday, October 25
Future is Now Luncheon with Major Beth Petrie

A Mighty Fortress is Our God: How are hope, peace of mind, and comfort possible in today's world?
WEDNESDAY, OCTOBER 25, 11:30 AM, COMMON ROOM

Join Sages for a light lunch and very inspirational, uplifting talk given by Major Beth Petrie from the Salvation Army. Her story is one of deep faith and a strong positive message of hope in today's world.
Cost: $8. Deadline for reservations: Tuesday, Oct 17, Noon.
Reservations can be made online, during coffee hour on Sundays in McFarland Hall, or at the front desk during the week.
---
Theology and the Life of Faith
Wednesdays, through November 8
Theology and the Life of Faith
WEDNESDAYS, 6:30-7:30 PM, ROOM 356
THROUGH NOVEMBER 8

Theology was central to the reformation of the church in the sixteenth century and continues to be a major influence on the church in the present day, shaping our understandings of Christian faith and the mission of the church. This class, led by Theologian in Residence Dr. John Franke, will provide an overview and introduction to the basics of Christian theology and consider the significance of these ideas for everyday life and the future of the church.
---
European Reformations
Sundays, 9:30 a.m.
European Reformations: A People's History

Adult Education Fall Class
SUNDAYS, 9:30 AM, ROOM 356
(THROUGH NOVEMBER 26)
---
Sunday, October 1, we welcome guest speaker Robert Saler, Research professor of Lutheran Studies at Christian Theological Seminary and Executive Director of the Center for Pastoral Excellence and the Lilly Endowment Clergy Renewal Program.
---
This class will trace the history and ideas of the various Reformations that spread across Europe in the sixteenth century and consider the ways in which these new ways of thinking about Christian faith continue to shape the church in the twenty-first century. In addition to considering the significance of some of the major figures of the time such as Erasmus, Martin Luther, Ulrich Zwingli, John Calvin, and others, particular attention will also be given to the influence and importance of ordinary people in shaping the movement.
---
Greenbriar Elementary
Seasonal Volunteer Opportunity
Put Your Faith into Action
Help students and teachers at Greenbriar Elementary.
WEEKDAYS DURING SCHOOL
The bright students and motivated teachers at nearby Greenbriar Elementary School need some helping hands to read with children, help in the classroom, go on field trips and host PTO events, like book fairs and Grandparents Day. Sign up to help every week or once in a while.
Contact Jan Millholland for more information.
---
Attention Knitters and Crocheters
Your help is needed!
Attention Knitters and Crocheters
Your help is needed!
We provide warm hats, mittens, and scarves to our Christmas Benevolence children and adults. We welcome your contributions to keep our neighbors warm. Please label your goods "CB" and place your donations in the red bin in the atrium starting November 5 and ending December 3.

Follow us: Facebook.com/Secondchurch or #2pcCB
---
Fall Bible Studies
Presbyterian Women
Fall Bible Studies
Presbyterian Women
Get details, topics and more about Presbyterian Women Bible Studies and Small Groups at: SecondChurch.org/PWGroups
TUESDAYS
Women in the Word
2:30 p.m., Room 114
Begins September 5
Contact: Wilma Sukapjo (317) 730-4737
WEDNESDAYS
Wednesday AM Bible Study
9-9:30 a.m., Milner Chapel & 9:30-11 a.m., Room 356
Contact: Melanie Lambert (317) 965-6209 or RuthAnn Gapen (219) 730-6271
Wisdom Seekers
9:30 a.m., Room 230
Begins: September 6
Contact: Cindy Baird (317) 362-1898


Wednesday PM Bible Study
6:45 p.m., PW Room
Begins September 13.
Contact: Ann Van Meter (317) 690-6614
THURSDAYS
Thursday AM Bible Study
9:15-10:45 a.m., Rooms 403 & 407
Contact: Connie Lammers (317) 849-4324 or Jill Kagey (317) 408-5756.
---
Make a Difference
While You Shop
Make a Difference While You Shop
WHEN YOU GET GROCERIES

Did you know that many grocery stores, such as Kroger, offer some type of community rewards program? These programs donate a percentage of each of your purchases to your favorite local organization. It's usually just a matter of logging in to your online account and choosing the organization you would like to support. Several organizations that are affiliated with our church participate in Kroger's Community Rewards Program, including Greenbriar Elementary School and Westminster Neighborhood Services.
Sign up today and help ensure that your shopping dollars help support not only your family, but our wider community.
---
| | | |
| --- | --- | --- |
| | | Five Good Books on Martin Luther |
Five Good Books for October
Martin Luther
OCTOBER RECOMMENDATIONS FROM DR. JOHN FRANKE
Roland Bainton, Here I Stand: A Life of Martin Luther, reprint edition (Abingdon, 2013)

John Dillenberger, ed. Martin Luther: Selections from His Writings (Anchor, 1958)

Martin Marty, October 31, 1517: Martin Luther and the Day that Changed the World (Paraclete, 2017)

Eric Metaxas, Martin Luther: The Man Who n Rediscovered God and Changed the World (Viking, 2017)

Heiko Oberman, Luther: Man between God and the Devil (Yale, 1989)
---
Families in Christ
Sundays, 9:30 AM
SUNDAYS, 9:30 AM, ROOM 112
Adults of all ages are welcome to this Sunday morning class where we circle up to discuss and grow in faith together! Social and service opportunities are offered throughout the year.
This group is studying,
Daring Greatly: How the Courage to Be Vulnerable Transforms the Way We Live, Love, Parent, and Lead
by Brené Brown. Every day we experience the uncertainty, risks, and emotional exposure that define what it means to be vulnerable or to dare greatly. Based on twelve years of pioneering research, Dr. Brown dispels the cultural myth that vulnerability is weakness and argues that it is, in truth, our most accurate measure of courage. Contact:
Jamey Everett
---
Koinonia
Sundays, 9:30 a.m.
SUNDAYS, 9:30 AM, ROOM 402
All are welcome to join us for fellowship and conversation as we read and study together the book The Shadow of the Galilean by Gerd Theissen.
---